18th Nov
CLOSURE OF SALTBURN BRANCH: IMPORTANT INFORMATION
In July 2021, as part of an engagement exercise we informed you that we would be applying to Tees Valley Clinical Commissioning Group (CCG) to seek a permanent closure of the Saltburn branch, which has been temporarily closed since March 2020 due to the covid-19 response.
The CCGs Primary Care Commissioning Committee have approved our branch closure application to allow us to consolidate services and workforce to ensure a greater quality of patient care, maintain sustainability and resilience, and provide us with the best opportunity to further develop and transform our practice and services in line with the future NHS vision for primary care.
The Saltburn branch will therefore permanently close on 31st March 2022 and will remained temporarily closed until this time due to the ongoing covid response.
You do not need to do anything as you will continue to be registered with Zetland Medical Practice.
You should continue to access the practice via the normal phone number 01642 477133 or attend the main site at Windy Hill Lane, Marske by the sea, Cleveland, TS11 7 BL.
There are no forms for you to complete and you do not need to take any further action. Notification letters to patients are expected to arrive around 19th November 2021.
If you do not wish to remain at Zetland Medical Practice you can choose to register with a different practice, as long as you live within that practice's boundary area. Information about practices in the area is available on the NHS web site (www.nhs.uk). Healthwatch Redcar and Cleveland can also provide advice and support on registering with a practice. Please call them on freephone 0800 118 1691 or at healthwatchsouthtees@pcp.uk.net
Patient Survey Feedback
How we engaged with patients
A six-week period of engagement took place between 5 July and 15 August 2021.
An invitation to participate in the survey was sent to all patients over the age of 16 registered at the Zetland practice (6164 invitations were sent).
The survey was also promoted on our website and through our social media platform.
What did patients say
The practice received a total of 641 responses back. 76% of responses were from patients who mainly use the main site and 23% from patients with a Saltburn address.
37% of all respondents were aware of the temporary branch closure in place; with only 6% of Saltburn respondents unaware
In terms of accessing the main site at Marske, 37% of Saltburn respondents indicated an approximate journey time of under 15mins and 45% anticipate this would be 15-30mins
When considering the location of a GP practice, 64% of Saltburn respondents (of which there were 148 in total) felt that having a practice within walking distance was most important to them, with 26% indicating the importance of a practice being within 5 miles of their home and 5% within a bus route
71% of all respondents agreed that having a GP practice open Mondays to Fridays from 08:00-18:00 would make it easier for them to see or speak to someone in a GP practice; 80% of the Saltburn respondents also agreed (despite the Saltburn branch only being accessible 08:30 to 13:00)
Overall, 45% of total respondents were not at all concerned about access to healthcare if the Saltburn branch site closed permanently; 16% of patients were extremely concerned, 12% very concerned, 11% slightly concerned and 15% were neutral.
Of the responses from Saltburn patients, 30% were extremely concerned, 19% very concerned and 13% slightly concerned; 21% were not concerned and 13% were neutral.
Practice response to additional concerns
The engagement exercise also provided us with an opportunity to consider and respond to common concerns:
Availability of appointments currently and in the future if the branch closes – there was a concern that capacity may be reduced; we can assure patients that this is not the case and the same number of clinical sessions provided by Zetland Medical practice as a whole has been, and will continue to be, provided from the Marske site. The closure will not impact on the number of appointments, or range of services available to our patients.
Access to face-to-face appointments with a GP – the covid-19 pandemic has negatively impacted access to face-to-face appointments as we have had to adapt our ways of working in line with national guidance. We can assure patients that we are offering a blend of both remote and face-to-face appointments as required and where clinically necessary or requested, we will offer face-to-face appointments.
Parking arrangements and access to disabled parking at the main site – there is a large, free car park across the road from the main site
Travel implications, especially for elderly Saltburn residents – we will continue to offer home visits for patients who are deemed housebound and will continue to offer remote and online services (e.g. telephone, video and online consultations). Repeat prescriptions can be phoned through to our main site and all prescriptions are now issued electronically direct to a pharmacy of a patient's choice all reducing the need to travel.
The frequently asked questions and answers enclosed in the survey may be found here - FAQ's
Thank you to all our patients who were involved in the engagement work and shared your views with us.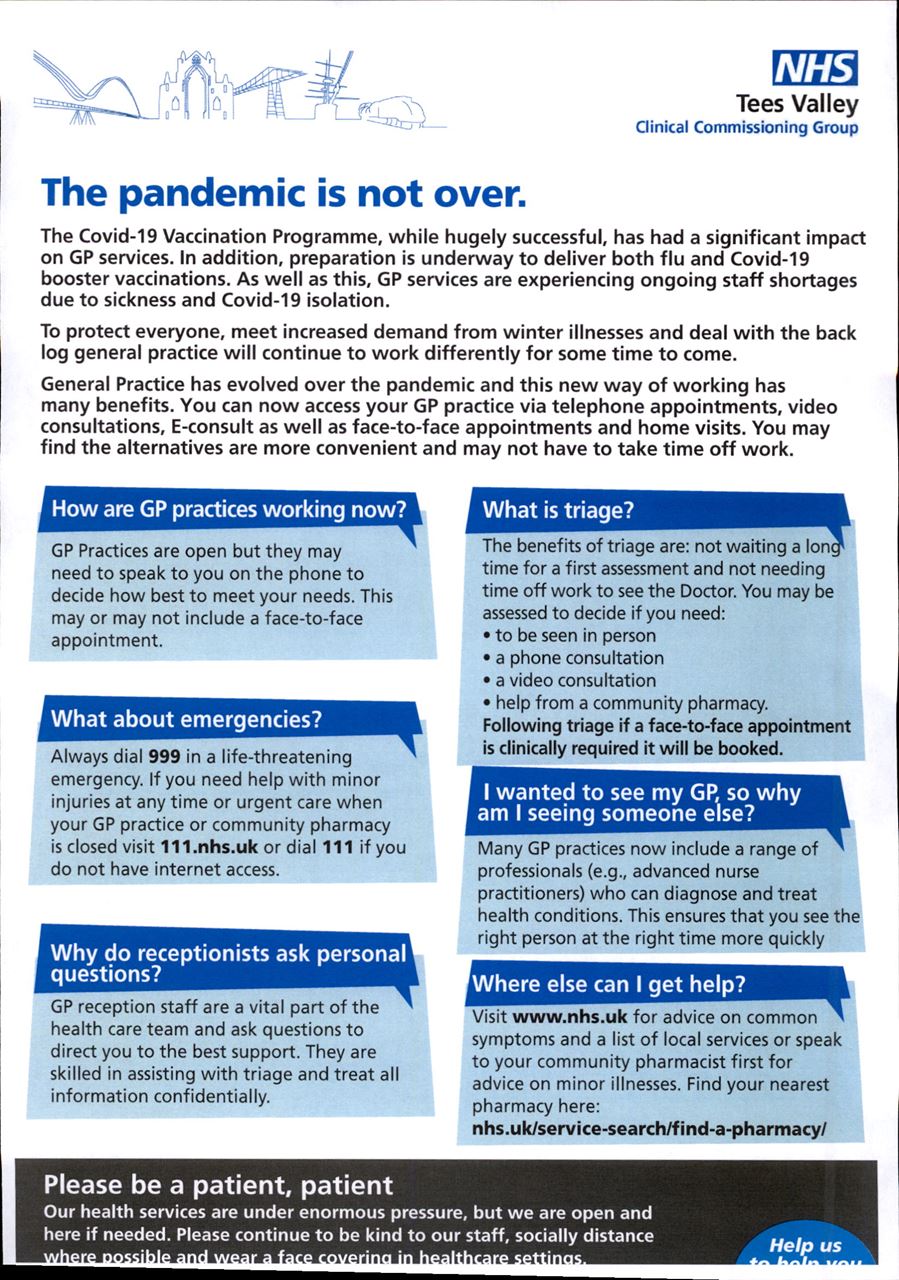 11th Oct
The pandemic is not over
You may have noticed some changes to the way your GP practice operates.
These changes have been made to ensure the NHS can see everyone, safely.
For primary care staff, the pandemic is not over.
Our health services are under enormous pressure, but we are open and here to see you safely.
Please continue to show respect to all healthcare staff and settings.
Since the pandemic, GP services have evolved.
There are now a variety of ways you can access help from your local practice, including telephone appointments, video consultations, E-consult as well as face-to-face appointments and home visits.
As we approach winter, health services remain under enormous pressure.
Check out our handy poster for just some of the ways we are working differently, to keep seeing our community safely.
Your NHS is here to see you, safely.
Thank you for your patience.
#BeAPatientPatient
21st Sep
Permanent Closure of the Saltburn branch
The engagement process with patients closed on 15th August. Feedback received has been added to the application to NHS Tees Valley Clinical Commissioning Group (CCG) to request the permanent closure of the Saltburn branch.
Further updates will be posted in due course
19th Aug
IMPORTANT INFORMATION RE BLOOD TESTS
Please note that due to a national shortage of blood bottles we have been told to cancel all routine blood appointments apart from immediately necessary/urgent requests.
This is beyond our control and we apologise for any inconvenience caused.
16th Jul
NHS Patients, staff and visitors must continue to wear face coverings in healthcare settings
1st Jul
CHANGES TO PRACTICE OPERATIONS FROM 5TH JULY 2021
THE PRACTICE DOORS WILL OPEN ON 05/07/2021
THERE WILL STILL BE A LIMIT OF 6 PEOPLE IN THE WAITING ROOM AND MASKS SHOULD BE WORN UNTIL WE ARE ADVISED THEY ARE NO LONGER NEEDED.
PLEASE DO NOT COME INTO THE PRACTICE IF YOU HAVE HAD CONTACT WITH ANYONE WITH COVID OR IF YOU ARE DISPLAYING SYMPTOMS.
PLEASE CONTINUE TO USE ONLINE SERVICES FOR PRESCRIPTION REQUESTS AND E-CONSULTATIONS VIA THE WEBSITE.
APPOINTMENTS CAN BE BOOKED BETWEEN 8.30AM AND 12 NOON.
FOR RESULTS, HOUSEBOUND PRESCRIPTIONS AND GENERAL ENQUIRES PLEASE RING BETWEEN 2PM AND 4PM
URGENT REQUESTS FOR APPOINTMENTS WILL BE DEALT WITH UP UNTILL 2PM WHERE APPROPRIATE.
20th May
Change to prescription ordering
From 01/06/2021 the current prescription line will no longer be in operation. If you are housebound and require a prescription you can phone the main number between 2pm and 4pm Monday - Friday.
We would encourage everyone to sign up for the NHS APP or register for online services which can be used to order repeat medication and book appointments.


1st Feb
LETTERS FROM NHS ENGLAND RE COVID VACCINATION
If you receive an invitation for a Covid vaccination for a NHS Hub please follow the instructions on the letter - do not contact the practice as we have no involvement in this.
If you do not wish to accept this invitation you will remain on our list and will be contacted in due course.
Please note that if you receive any invitations that ask you to pay a fee this is a scam as the Covid vaccination is currently free of charge
13th Jul 2020
ONLINE SERVICE REGISTRATION
You are now able to register for online services where you can re-order your prescriptions and book any available online appointments
6th Feb 2020
Great North Care Record
The Great North Care Record is a way of sharing patient information with health and care staff. It covers the 3.6 million people living in the North East and North Cumbria.
It means information recorded about your health such is illnesses, hospital admissions and treatments can be accessed by different people who are involved in your care. Previously, different hospitals, GPs and other health workers record separate pieces of information about you, which wasn't easily shared.
By sharing this information with the Great North Care Record, health and care workers can access the most current details about you 24/7. This can help them make choices about your care, as they know more about you.
Please access the link below for more detailed information - https://www.greatnorthcarerecord.org.uk/
23rd Dec 2019
REGIONAL SELF CARE
in accordance with CCG guidelines the practice has been asked not to prescribe medication for hayfever, allergies, aches and pains, holiday medication and season ailments. Please see the self help link for advice: http://www.mymedicinesmyhealth.org.uk
23rd Dec 2019
MINDFULNESS AWARENESS
If you suffer from repeated episodes of depression, are stressed in the role of caring for (or parenting) or a suffering from a mental health problem, taster sessions of mindfulness awareness are courses are available via the link below. There is no need to see a GP as the courses are self-referrable.https://www.tewv.nhs.uk/services/mindfulness