31st Jul
PHONES DOWN
We had a new phone system installed on Wednesday but we are having issues answering calls this morning. We apologise for any inconvenience caused and we hope to be back on asap.
30th Mar
NHS Hormone Replacement Therapy Prescription Prepayment Certificate (HRT PPC)
30th Jan
From 01/02/2023 the below appointments will now take place in the practice.
First Contact Physiotherapy
Wednesday morning

Under 18's Mental Health Practitioner
Monday Afternoon

Advanced Care Practitioner/OT
Alternate Monday afternoon
To book an appointment please contact reception on 01642 477133
14th Nov 2022
Notice
Dr Jones recently spoke to James Arther regarding all things mental health from managing symptoms to medication. You can see the documentary via the BBC iplayer (link below)
13th Oct 2022
HEALTHIER TOGETHER - FOR 0-18 YEAR OLDS
Healthier Together is a nationwide initiative. The website provides pregnant women, babies, children and young people with consistent and high quality advice from local health professionals.
You'll find clear information on common childhood illnesses, including advice on what 'red-flag' signs to look out for, where to seek help if required and how long your child's symptoms are likely to last.
The app is available to download via the link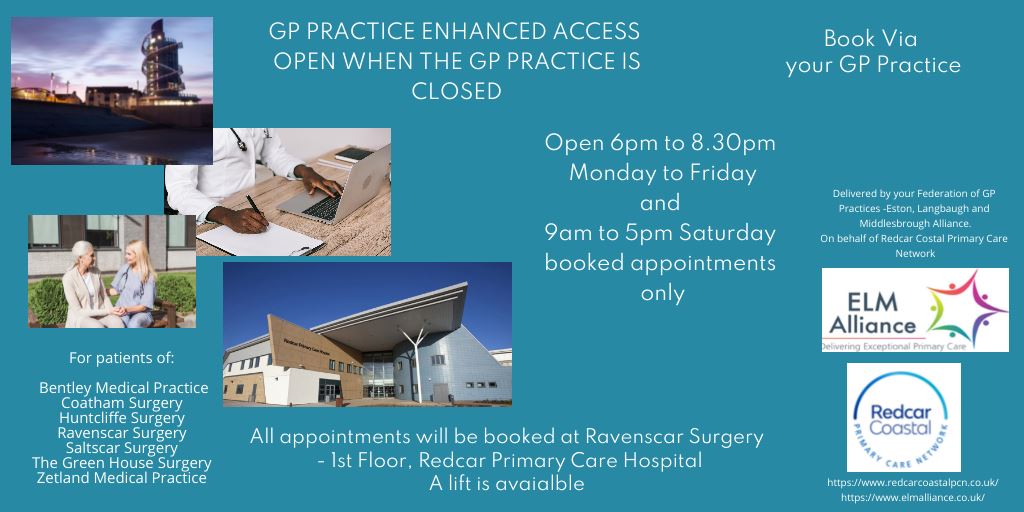 4th Oct 2022
Enhanced Access from 1st October
30th Sep 2022
Extended Hours
You can now book an appointment to see a GP, Advanced Nurse Practitioner, Practice Nurse or Health Care Assistant on an evening or a Saturday.
Appointments can be booked through the practice or via https://www.elmalliance.co.uk/appointments/. All appointments will take place at The Ravenscar Surgery, Redcar Primary Care Hospital.
Please contact the practice on 01642 477133 to book
7th Sep 2022
Ear Washouts
From 1st October 2022 the practice will no longer be offering ear washouts.
There are products you can buy over the counter or self-refer to private services such as Specsavers.
We apologise for any inconvenience.
1st Sep 2022
Face Masks
You no longer need to wear a face mask at the practice.
Please continue to do so if you are being seen for a respiratory complaint or a sore throat.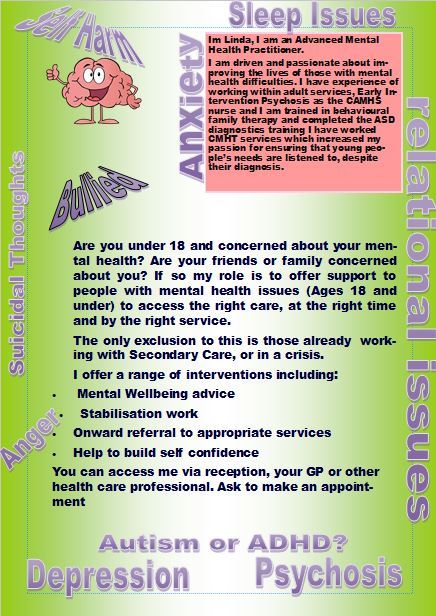 24th Jun 2022
Sleep Issues
If you are 18 or under and would benefit from the services Linda can offer, please speak to a member of the reception team who can make you an appointment.
24th Mar 2022
MENTAL HEALTH INTERVIEW WITH DR ALEX JONES
The wise fools interview a female GP, Dr Alex Jones and discuss a whole range of things kicking off with music that inspires her, who manages the mental health of GP's, the nature of mental health presentations of men, self compassion, alternatives that help and much more. Enjoy this first of a few planned episodes chatting to a local GP about men's health issues in Tees. For more information on local men's health services and inspirational stories, visit www.boromancan.co.uk
#menshealth #boromancan #thismancan #boromen #teesmenshealth #redcar #middlesbrough #mensmentalhealth
SPOTIFY LINK: https://open.spotify.com/show/14EfA9K
YOU TUBE LINK: https://youtu.be/LibwqMpNQYw
7th Mar 2022
Appointments
From 04/04/2022 the practice will be offering early morning appointments.
On a Monday, Wednesday, and Thursday you will be able to get an appointment with a member of the nursing team or an Advanced Nurse Practitioner from 7.10am.
This is for booked appointments only and below is an example of the appointments that will be offered.


Bloods
Smears
Dressings
Injections
Long term condition reviews
ECG's
Contraception Checks
HRT reviews
Face to Face and telephone consultations
Healthy Heart checks
Baby Imms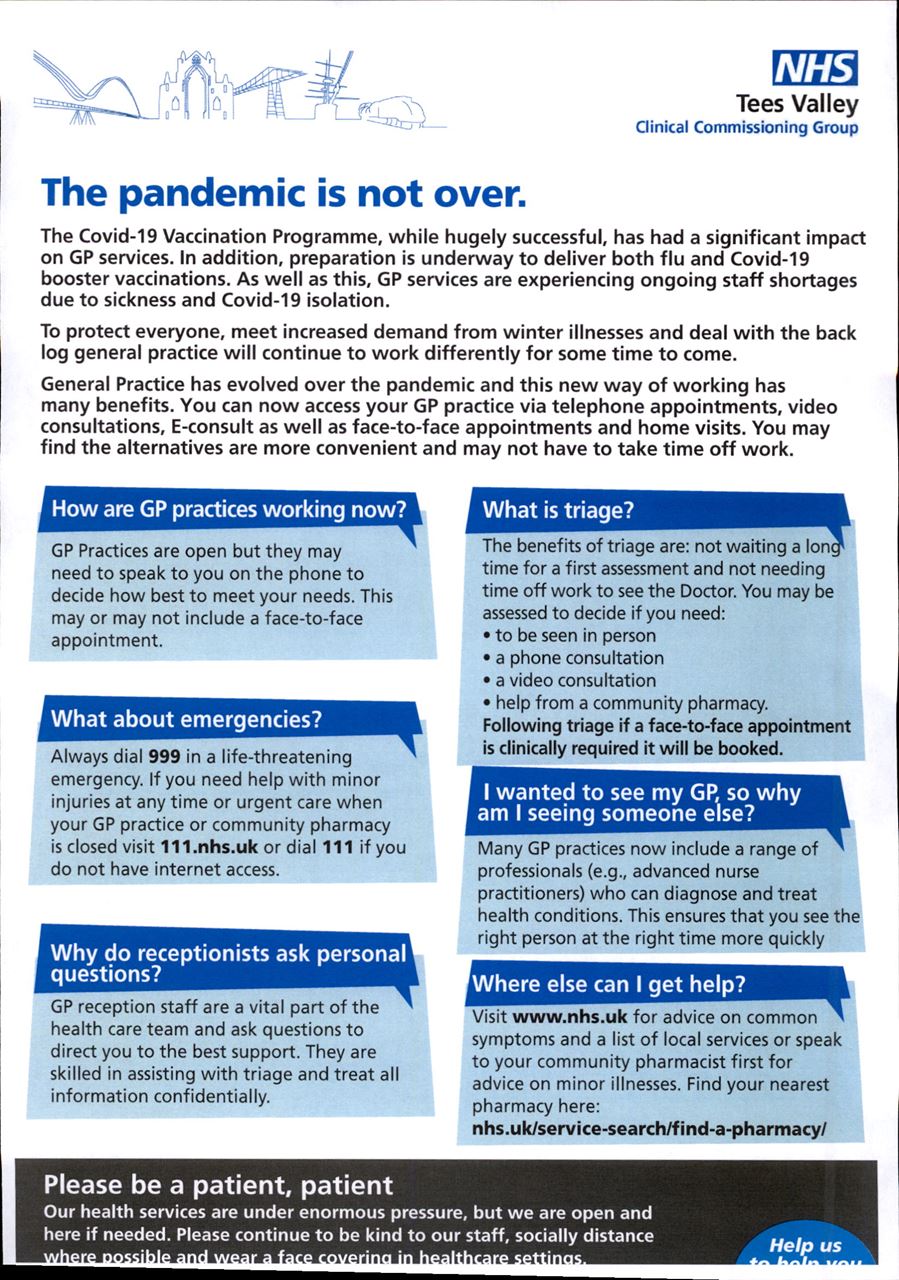 11th Oct 2021
The pandemic is not over
You may have noticed some changes to the way your GP practice operates.
These changes have been made to ensure the NHS can see everyone, safely.
For primary care staff, the pandemic is not over.
Our health services are under enormous pressure, but we are open and here to see you safely.
Please continue to show respect to all healthcare staff and settings.
Since the pandemic, GP services have evolved.
There are now a variety of ways you can access help from your local practice, including telephone appointments, video consultations, E-consult as well as face-to-face appointments and home visits.
As we approach winter, health services remain under enormous pressure.
Check out our handy poster for just some of the ways we are working differently, to keep seeing our community safely.
Your NHS is here to see you, safely.
Thank you for your patience.
#BeAPatientPatient
13th Jul 2020
ONLINE SERVICE REGISTRATION
You are now able to register for online services where you can re-order your prescriptions and book any available online appointments
6th Feb 2020
Great North Care Record
The Great North Care Record is a way of sharing patient information with health and care staff. It covers the 3.6 million people living in the North East and North Cumbria.
It means information recorded about your health such is illnesses, hospital admissions and treatments can be accessed by different people who are involved in your care. Previously, different hospitals, GPs and other health workers record separate pieces of information about you, which wasn't easily shared.
By sharing this information with the Great North Care Record, health and care workers can access the most current details about you 24/7. This can help them make choices about your care, as they know more about you.
Please access the link below for more detailed information - https://www.greatnorthcarerecord.org.uk/
23rd Dec 2019
MINDFULNESS AWARENESS
If you suffer from repeated episodes of depression, are stressed in the role of caring for (or parenting) or a suffering from a mental health problem, taster sessions of mindfulness awareness are courses are available via the link below. There is no need to see a GP as the courses are self-referrable.https://www.tewv.nhs.uk/services/mindfulness
23rd Dec 2019
REGIONAL SELF CARE
in accordance with CCG guidelines the practice has been asked not to prescribe medication for hayfever, allergies, aches and pains, holiday medication and season ailments. Please see the self help link for advice: http://www.mymedicinesmyhealth.org.uk