16th May
DR DONNA MOORE
Dr Moore is taking retirement, her last clinic is 4th July.
It has been a pleasure working with her and we wish her well for the future.
31st Mar
SALTBURN BRANCH
The Saltburn branch will be permanently closed from today.
All services will continue to be acessible from our main site as they have been whilst the branch has been temporarily closed.
24th Mar
MENTAL HEALTH INTERVIEW WITH DR ALEX JONES
The wise fools interview a female GP, Dr Alex Jones and discuss a whole range of things kicking off with music that inspires her, who manages the mental health of GP's, the nature of mental health presentations of men, self compassion, alternatives that help and much more. Enjoy this first of a few planned episodes chatting to a local GP about men's health issues in Tees. For more information on local men's health services and inspirational stories, visit www.boromancan.co.uk
#menshealth #boromancan #thismancan #boromen #teesmenshealth #redcar #middlesbrough #mensmentalhealth
SPOTIFY LINK: https://open.spotify.com/show/14EfA9K
YOU TUBE LINK: https://youtu.be/LibwqMpNQYw
23rd Mar
COVID BOOSTER VACCINATIONS
We have been indundated with enquiries about booking covid booster vaccines.
Our Primary Care Network (the collective of practices who worked together to deliver the previous covid vaccination programme) is currently evaluating whether it is possible for to us to run another vaccination programme.
Please do not contact us as this blocks our phone lines for patients who need to speak to us.
When it is your turn to be vaccinated, either we will contact you or if we opt out the service commissioned to run the vaccination programme will contact you.
Thank you
7th Mar
Appointments
From 04/04/2022 the practice will be offering early morning appointments.
On a Monday, Wednesday, and Thursday you will be able to get an appointment with a member of the nursing team or an Advanced Nurse Practitioner from 7.10am.
This is for booked appointments only and below is an example of the appointments that will be offered.


Bloods
Smears
Dressings
Injections
Long term condition reviews
ECG's
Contraception Checks
HRT reviews
Face to Face and telephone consultations
Healthy Heart checks
Baby Imms
15th Dec 2021
Update on the COVID-19 booster programme and impact upon your GP services
Dear Patient,
You will have seen that the highest priority for the NHS is to offer booster Covid jabs to everyone over 18. For the past 20 months the whole team at Zetland Medical Practice have been working extremely hard in the most difficult circumstances to make a large contribution to the 110 million COVID-19 vaccinations delivered to date whilst continuing to deliver care to all patients, protect the most vulnerable patients and assist hospitals and the wider NHS services as all recovered from the devastating impact caused by the first waves of COVID-19.
Zetland Medical Practice, along with GP colleagues around the country, are once again being asked to step to the forefront to deliver a record number (20 million) COVID vaccinations before the end of the year. This is a huge challenge for a team that is already exhausted and is being hit by the same illness and COVID impact as the rest of the nation. It will require everyone to work even harder and longer than they do now.
We appreciate the concerns you may have and that you want to understand how the government statement that routine services may need to be stood down to allow us to focus on providing COVID vaccinations may impact on you and your care.
Firstly, we once again request your kindness, respect and understanding for the team working incredibly hard within our practice to help as many people as possible. In terms of any planned appointments you have booked with us, there are no changes at the current time. If you do have any COVID symptoms or have been in contact with a person who has tested COVID positive, please do contact the practice before you attend and have a PCR test. Otherwise, please bring your face covering and attend your appointment as normal. If we need to make any changes, we will contact you directly. If you are unable to attend, it is important to ensure you cancel your appointment so we can provide the time to the many others who need to see us.
Secondly, our practice is open, and it is important that you continue to put your health first and seek urgent medical help when you need it. You may find that our phonelines are overwhelmed by the volume of calls we are receiving, and it is more difficult than usual to reach us so we kindly ask you to only ring the surgery when it is essential. That way we can respond to our patients with the highest need. We have tried our utmost to continue to care for you and your loved ones through challenging circumstances, but winter has always seen a lot more illness and higher demand for services. COVID has made it even harder, and the new booster campaign makes it impossible for us to maintain normal services.
We do understand that this may be worrying for you and we will do our very best to meet our patient needs but there may be times, in the extreme circumstances we are now in, that we must prioritise those in greatest need. It may feel that our team is asking a lot of questions when you contact the practice but that is to help us help you so please be patient. Understanding the need and urgency will help us get you to the best person first time, that person may not always be a GP.
If you need routine care and your condition is stable, we may need to be delay check-ups for a while, but if you do feel your condition has worsened and is causing you great concern please do contact the practice.
Many calls we get are for minor illnesses which are self -limiting and do not need clinical intervention. Before contacting the practice, please do consider self -help and pharmacy options, these may well be much quicker to give you with the help you need.
We are also being inundated with COVID vaccination related calls. Please do not contact the practice to request a COVID vaccination appointment or a COVID Pass letter. This prevents patients in need of urgent medical help being able to reach the practice and is not something our reception team can assist with. You will be invited when we have a vaccination appointment available for you or you can book via the national booking system and all COVID Pass letters/codes can be generated online or via the NHS App.
Prevention is better than cure and we really need our patients, carers and practice team to help each other as we get through this challenges that face us over the weeks and months ahead. We pledge to continue to do our very best for you and we know that you will want to do all you can to help us all get through this next phase in the pandemic.
Please do explore the information/links below prior to contacting us but if you do find yourself still needing help, we continue to be here for you and will do all we can.
Thank you again for your understanding, consideration and kindness; it truly is appreciated by the whole team
Points to consider and helpful links:
Self help –
Pharmacy -
Prescriptions - may be ordered via online services at www.zetlandmedicalpractice.co.uk, using the NHS App or dropping of a repeat prescription slip. Housebound patients may ring 01642 477133 to order their prescriptions between 2pm and 4pm.
E consults – are available via www.zetlandmedicalpractice.co.uk. These can be used for non urgent medical advice, ordering Med 3 certificates and for admin queries. Responses will be made within 48 hours.
COVID -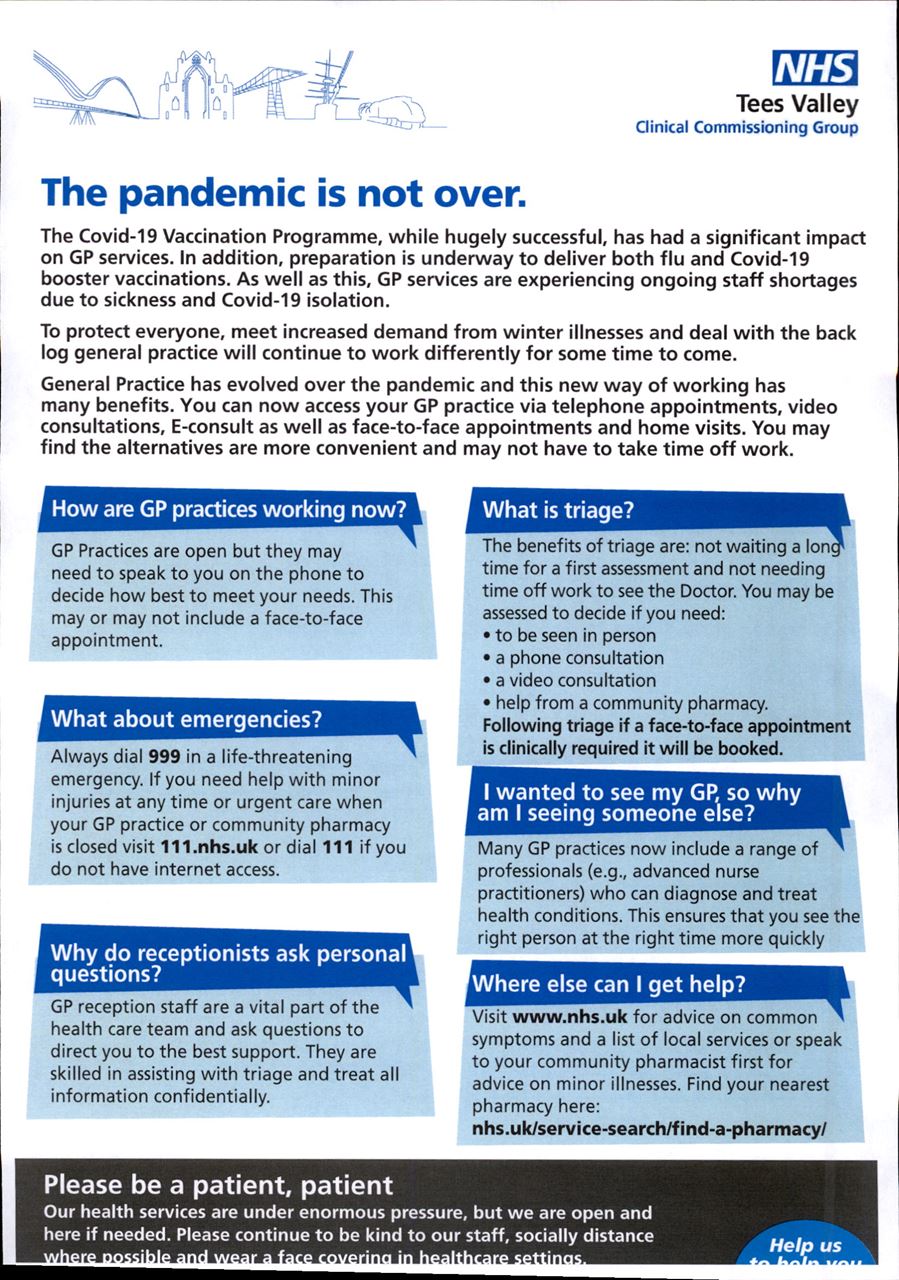 11th Oct 2021
The pandemic is not over
You may have noticed some changes to the way your GP practice operates.
These changes have been made to ensure the NHS can see everyone, safely.
For primary care staff, the pandemic is not over.
Our health services are under enormous pressure, but we are open and here to see you safely.
Please continue to show respect to all healthcare staff and settings.
Since the pandemic, GP services have evolved.
There are now a variety of ways you can access help from your local practice, including telephone appointments, video consultations, E-consult as well as face-to-face appointments and home visits.
As we approach winter, health services remain under enormous pressure.
Check out our handy poster for just some of the ways we are working differently, to keep seeing our community safely.
Your NHS is here to see you, safely.
Thank you for your patience.
#BeAPatientPatient
16th Jul 2021
NHS Patients, staff and visitors must continue to wear face coverings in healthcare settings
13th Jul 2020
ONLINE SERVICE REGISTRATION
You are now able to register for online services where you can re-order your prescriptions and book any available online appointments
6th Feb 2020
Great North Care Record
The Great North Care Record is a way of sharing patient information with health and care staff. It covers the 3.6 million people living in the North East and North Cumbria.
It means information recorded about your health such is illnesses, hospital admissions and treatments can be accessed by different people who are involved in your care. Previously, different hospitals, GPs and other health workers record separate pieces of information about you, which wasn't easily shared.
By sharing this information with the Great North Care Record, health and care workers can access the most current details about you 24/7. This can help them make choices about your care, as they know more about you.
Please access the link below for more detailed information - https://www.greatnorthcarerecord.org.uk/
23rd Dec 2019
REGIONAL SELF CARE
in accordance with CCG guidelines the practice has been asked not to prescribe medication for hayfever, allergies, aches and pains, holiday medication and season ailments. Please see the self help link for advice: http://www.mymedicinesmyhealth.org.uk
23rd Dec 2019
MINDFULNESS AWARENESS
If you suffer from repeated episodes of depression, are stressed in the role of caring for (or parenting) or a suffering from a mental health problem, taster sessions of mindfulness awareness are courses are available via the link below. There is no need to see a GP as the courses are self-referrable.https://www.tewv.nhs.uk/services/mindfulness