8th Aug
Opening Times Notice
The Practice is closed from 12pm on Tuesday 16th August 2022 for staff training - unless you have a booked appointment.
If you are in need of non-urgent medical care, please contact 111
If you have a medical emergency, please call 999
We will be open as usual on Wednesday 17th August 2022.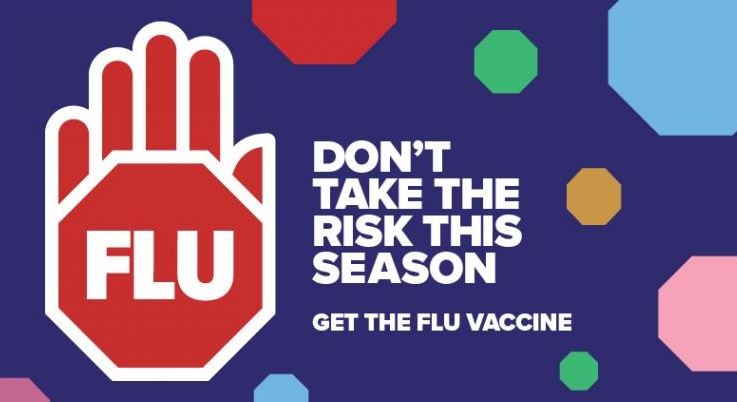 4th Jul
****FLU CLINICS******
Saturday 24/09/2022 - 8am - 4pm
Anyone aged over 65
Aged under 65 in a clinical risk group.
Saturday 15/10/2022 - 8am-3pm
Anyone aged over 65
Aged under 65 in a clinical risk group.
All children aged 2 or 3 years on 31 August 2022
You can book via online services if you have access or by contacting the practice. We will also be sending invitation links to those who have mobile numbers registered with the practice.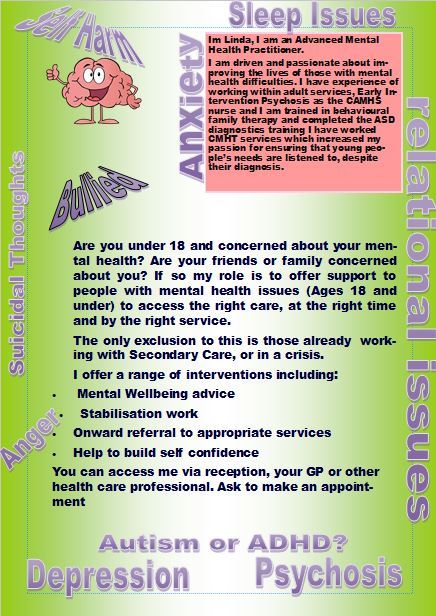 24th Jun
Sleep Issues
If you are 18 or under and would benefit from the services Linda can offer, please speak to a member of the reception team who can make you an appointment.
13th Jun
Notice
As many patients coming into the practice have not been triaged, we are asking that you continue to wear a mask in the practice.
This is to protect you and other patients.
24th Mar
MENTAL HEALTH INTERVIEW WITH DR ALEX JONES
The wise fools interview a female GP, Dr Alex Jones and discuss a whole range of things kicking off with music that inspires her, who manages the mental health of GP's, the nature of mental health presentations of men, self compassion, alternatives that help and much more. Enjoy this first of a few planned episodes chatting to a local GP about men's health issues in Tees. For more information on local men's health services and inspirational stories, visit www.boromancan.co.uk
#menshealth #boromancan #thismancan #boromen #teesmenshealth #redcar #middlesbrough #mensmentalhealth
SPOTIFY LINK: https://open.spotify.com/show/14EfA9K
YOU TUBE LINK: https://youtu.be/LibwqMpNQYw
7th Mar
Appointments
From 04/04/2022 the practice will be offering early morning appointments.
On a Monday, Wednesday, and Thursday you will be able to get an appointment with a member of the nursing team or an Advanced Nurse Practitioner from 7.10am.
This is for booked appointments only and below is an example of the appointments that will be offered.


Bloods
Smears
Dressings
Injections
Long term condition reviews
ECG's
Contraception Checks
HRT reviews
Face to Face and telephone consultations
Healthy Heart checks
Baby Imms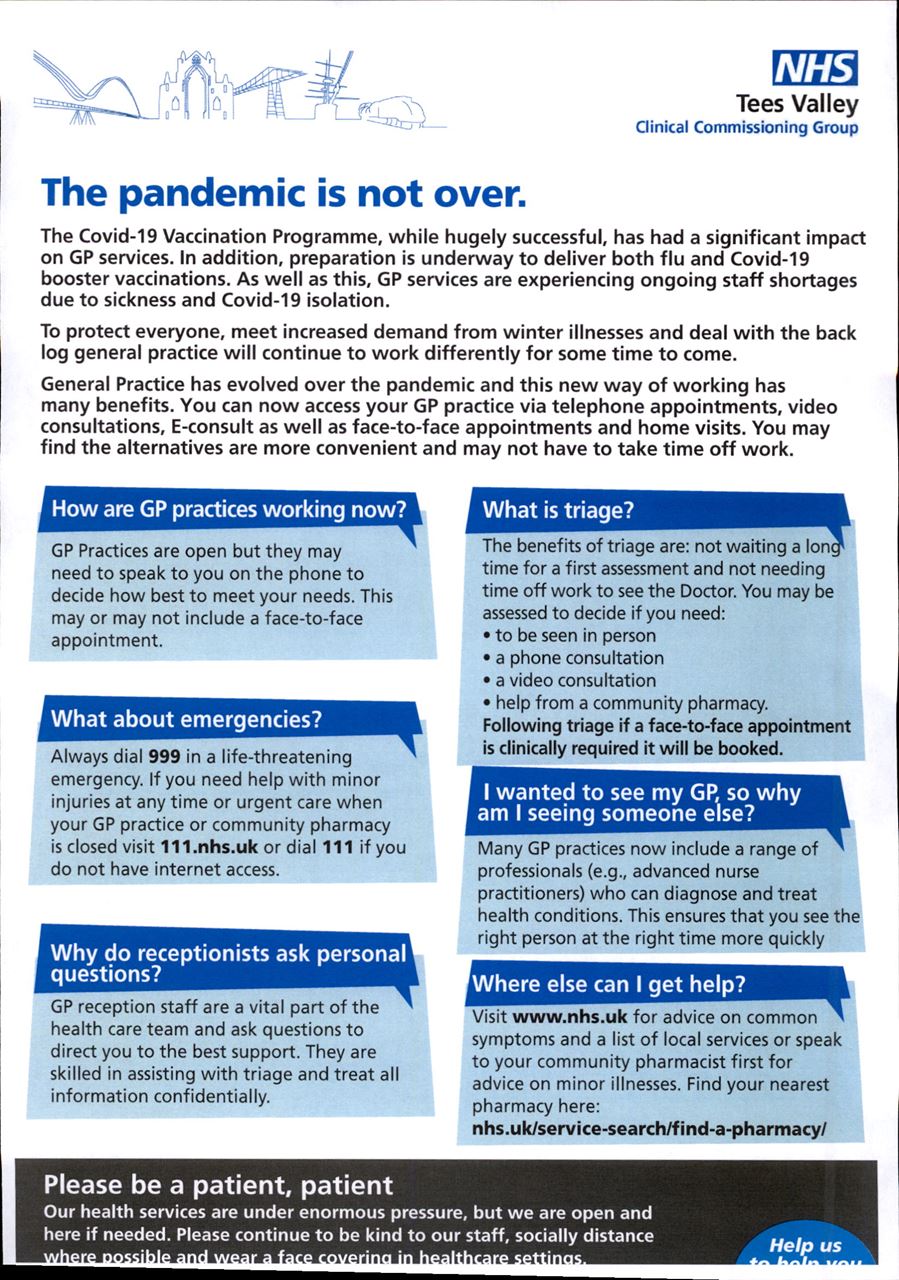 11th Oct 2021
The pandemic is not over
You may have noticed some changes to the way your GP practice operates.
These changes have been made to ensure the NHS can see everyone, safely.
For primary care staff, the pandemic is not over.
Our health services are under enormous pressure, but we are open and here to see you safely.
Please continue to show respect to all healthcare staff and settings.
Since the pandemic, GP services have evolved.
There are now a variety of ways you can access help from your local practice, including telephone appointments, video consultations, E-consult as well as face-to-face appointments and home visits.
As we approach winter, health services remain under enormous pressure.
Check out our handy poster for just some of the ways we are working differently, to keep seeing our community safely.
Your NHS is here to see you, safely.
Thank you for your patience.
#BeAPatientPatient
13th Jul 2020
ONLINE SERVICE REGISTRATION
You are now able to register for online services where you can re-order your prescriptions and book any available online appointments
6th Feb 2020
Great North Care Record
The Great North Care Record is a way of sharing patient information with health and care staff. It covers the 3.6 million people living in the North East and North Cumbria.
It means information recorded about your health such is illnesses, hospital admissions and treatments can be accessed by different people who are involved in your care. Previously, different hospitals, GPs and other health workers record separate pieces of information about you, which wasn't easily shared.
By sharing this information with the Great North Care Record, health and care workers can access the most current details about you 24/7. This can help them make choices about your care, as they know more about you.
Please access the link below for more detailed information - https://www.greatnorthcarerecord.org.uk/
23rd Dec 2019
REGIONAL SELF CARE
in accordance with CCG guidelines the practice has been asked not to prescribe medication for hayfever, allergies, aches and pains, holiday medication and season ailments. Please see the self help link for advice: http://www.mymedicinesmyhealth.org.uk
23rd Dec 2019
MINDFULNESS AWARENESS
If you suffer from repeated episodes of depression, are stressed in the role of caring for (or parenting) or a suffering from a mental health problem, taster sessions of mindfulness awareness are courses are available via the link below. There is no need to see a GP as the courses are self-referrable.https://www.tewv.nhs.uk/services/mindfulness